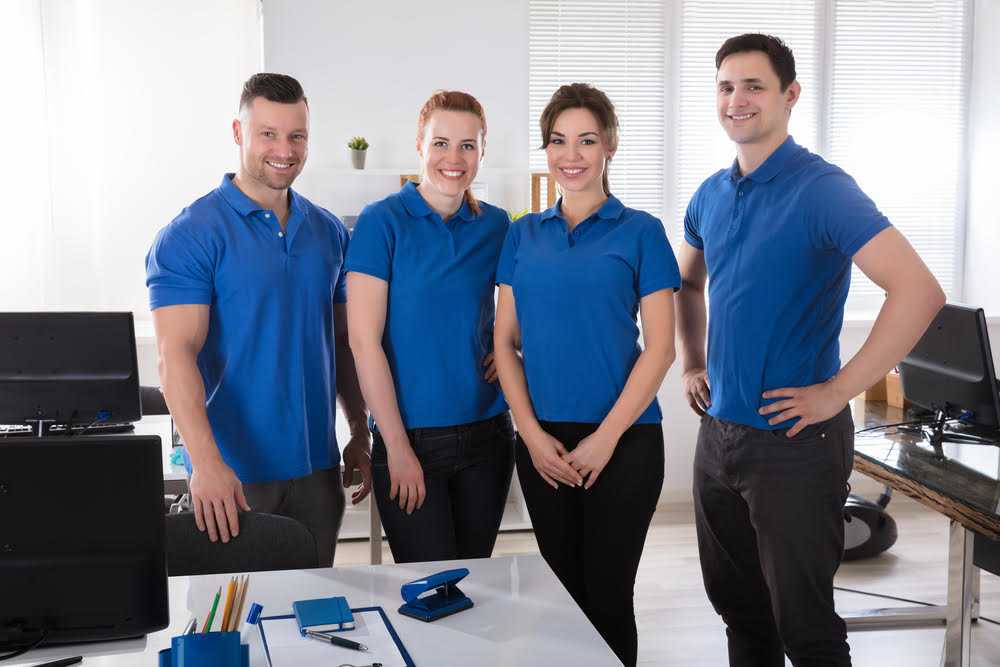 With a world of uniforms to choose from for your hospital, clinic, restaurant, industrial business, or office, it's a good idea to know what you're looking for before making any big decisions. The following guide will help you determine which uniforms are right for your business. 
We've all heard the saying that "clothes make the man," and nowhere else is this as true than with work uniforms. Work uniforms are an indispensable part of an organized, efficient business. 
Consider how certain professions and industries have come to be symbolized by their attire. Doctors' white coats, nurses' scrubs, corporate workers' dark suits, industrial workers' coveralls, etc. are just a few examples. In some sectors, specific uniforms are required by law for employee safety and protection.
Types of Work Uniforms
Work uniforms are divided into two categories: functional and appearance. 
Functional 
Functional uniforms are designed to do a specific job or fulfill a specialized purpose. Some common examples are:
Scrub suits.

Mostly worn by nurses and some doctors – especially those that work in the emergency rooms and surgery rooms, the scrub suit is the healthcare professional's functional answer to the stiff white lab coat and nurse uniform. Scrubs suits help increase mobility and wearer comfort, allowing healthcare professionals the freedom of movement through long, rigorous hours on the job.

Coveralls.

A long-held icon of the industrial worker, coveralls are worn by everyone from factory workers to construction and ship crews. Coveralls are suitable for long, hard, physically-demanding jobs. They contain durable fabrics, known for full-coverage protection against all sorts of job hazards, and designed to put on and take off easily for the convenience of the wearer.

Safety wear.

Safety uniforms come in all forms depending on the industry and range from flame-retardant shirts and jeans to high-visibility vests and more. They protect against specific hazards workers encounter on the job.
Appearance 
Unlike their job-specific counterparts, standard uniforms mainly serve aesthetic purposes. These uniforms are usually not specific to one industry or profession but they are just as important. They are especially useful for creating a distinguished and professional look for one's business.
They come in many different forms including:
Polos

Button downs

Slacks

Suits and jackets

Standard shirts
Because standard uniforms are not specific to certain industries or professions, businesses have more freedom to play around with uniform designs to boost branding efforts. With the advances in uniform customization technology, there are countless ways that business owners can tailor their uniforms to their specifications.
Uniforms and Your Business
If you're looking to implement a uniform program for your business, one of the most important things to consider is your uniform service provider. How you intend to (a) acquire and also (b) maintain your uniforms are decisions that will either make or break the investment you put into them. 
Whatever your decision, a uniform service provider is the answer. Whether you want to rent, buy, or lease your company uniforms, Clean Uniforms and More! is here for you! Contact us today at (800) 32-CLEAN to speak with a consultant and learn more about our flexible uniform options.
https://www.cleanuniforms.com/wp-content/uploads/2019/10/unnamed.jpg
667
1000
Grace
https://www.cleanuniforms.com/wp-content/uploads/2020/03/CleanUniforms-2020LogoResize.png
Grace
2019-10-24 18:32:29
2020-02-13 21:56:24
Your Guide to Uniforms