Contact Us
We are a third-generation family-owned uniform service company.
Contact Us
Use the form below to send us a message.
Our Service Area
Businesses in Our Service Area,
If you're looking for or just interested in uniform service, we're ready to talk about your needs and develop a customized service plan to meet them. We've provided professional-grade uniforms, mops, towels, and facility services to businesses in New Jersey, New York, Vermont, New Hampshire, Massachusetts, Connecticut, and Rhoad Island for many years.
Though we cover a lot of ground, we remain a locally-based, independently-owned company that prioritizes the customer's experience and satisfaction. We will not betray your expectations of quality or service, and we will strive to support your business in any way we can.
Our Main Contact Info
---
---
Toll-Free: 800.32.CLEAN
---
Fax: 866.89.CLEAN
---
Mailing Address
Clean Rentals, Inc.
P. O. Box 63100
New Bedford, MA 02746
Service Center
355 Church Street New
Bedford, MA 02746
Additional Locations
Manchester, CT
Londonderry, NH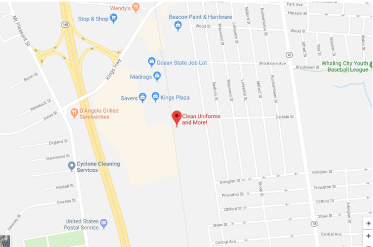 Corporate Office
Clean Rentals, Inc.
P. O. Box 63100
New Bedford, MA 02746
Service Center
355 Church Street New
Bedford, MA 02746
Additional Locations
Manchester, CT
Londonderry, NH