Dust, dirt, grime and moisture are your deadly silent enemies. Research proves that 70 to 80% (International Sanitary Supply Association) of dirt, dust, grime and moisture found in commercial buildings is tracked in from the outside and is spread throughout the floors.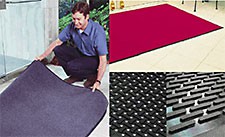 The maintenance cost to your company is astounding.
The estimated cost of removing just one pound of dirt from a building can exceed $600.00.
90% of modern building maintenance costs is labor (Cleaning Management).
39% of all custodial time is devoted to floor care maintenance (National Executive Housekeepers Association).
$1.00 spent keeping soil out of a building will save $10.00 in removing it once it is inside (Cleaning and Maintenance Management).
Dirt and dust cause 9 out of 10 system failures (Louisiana Cooperative Extension Service).
By installing area protection mats in lobbies, reception areas and other high-traffic areas, you can control dust, grime, dirt and moisture. The result is a cleaner facility, and a drastic reduction in housekeeping, equipment maintenance and repair costs.
https://www.cleanuniforms.com/wp-content/uploads/2019/02/mats-225x137.jpg
137
225
infinite_5md8ly
https://www.cleanuniforms.com/wp-content/uploads/2020/03/CleanUniforms-2020LogoResize.png
infinite_5md8ly
2018-03-05 14:11:26
2020-02-13 21:56:36
Clean Mats Make Your Facility Cleaner